About Bicycles Online > Bicycle Touring and Trails > Fox River Bike Trail South
The Fox River Trail, South Elgin Construction
Update: July, 2011
Note: The Sterns Road Bridge Project is now complete and the Fox River Trail is open once again at this location.
See the photos at the end for the new bridge and see the About-Bicycles Bike Blog Trail Condition articles for the latest updates.
---
Original Article:
Fox River Trail Closures for Stearns Road Bridge Project – There are large signs just north of the long bridges in south Elgin that say that they are building a new highway bridge over the Fox River and that parts of the trail will be closed from the end of July 2009 through December 2010 (all summer of 2010!).
The signs refer the stearnsroad.com website (below) which I visited and it gives a lot of information on the roads but not much specifically about the bike trail. There was also an email address posted and I have sent an email to this address requesting more information about the "temporary detour". I have received a lot of information about the project but nothing about a detour.
The website said "The Fox River bike trail is set to be closed from South Elgin to the John J. Duerr Forest Preserve beginning 8/3/2009" ...and through December of 2010.
For more information about the project see: the www.stearnsroad.com
Additional updates on the Fox River Trail Construction can be found here: Fox River Bike Trail Conditions in the About-Bicycles-Blog.
2010 Updates and Detour Options
The stearnsroad.com website never posted anything about an official detour and at this point, I don't think that they will. I wanted to check this out before planning any long FRT rides this summer so I did some research, exploring and took some photos.
You can go around the signs and through the construction site if you are really determined, but I would not recommend it. They are building and working on a bridge over the path and it could be dangerous to pass underneath. I did do this specifically for a first hand update to this site but I would not recommend it or do it again. Besides if you read the comments to my blog post on this subject ( Fox River Bike Trail Conditions in the About-Bicycles-Blog) you'll see that you can also get ticketed for this.
The other option that I tried was to detour around the construction. The only way that I found to get by this was to go out to Route 31 and this is not really a great option either, but it can be done.
If you are heading south you would get on Route 31 at the County Park in South Elgin. I rode on the grass by the Trolley Museum, but that was difficult. You can avoid a little bit of Route 31 by taking the subdivision roads that go parallel to 31 for a while.
Eventually you will need to get back on to 31 and cross the construction area and get back to the trail at the Jon Duerr forest preserve entrance. This detour is around 1.5 miles but you would be on Route 31 for less than a mile if you use the subdivision roads.
This is not a great option if you don't like riding on narrow roads with traffic (which I don't) but it can be done if you really need to get around the construction. As for myself, I think I'll just plan my trips to avoid this section for this summer :-(
Anyway, I took quite a few photos as I was checking this out and here are the photos and comments.
The Fox River Trail Construction Photos
(Click on any photo to enlarge)
This is just before the actual construction
Coming to the construction sign on the south end
It's not easy to get around this (and I don't recommend it)
The signs as you head north
Here' are the completed Stearns Road Bridge photos as of July 2011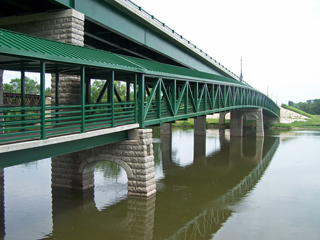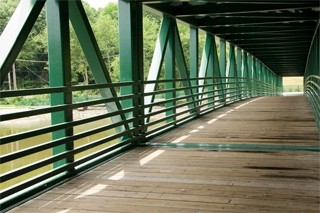 This photo compliments of Dale Kiffel.
I was also checking out the stearnsroad.com website for specific bike trail info and I believe that the FRT will not change significantly, but it looks like there may be some additional bike trails in this area.
The website says that there will be
Seven Miles of multi-use trails
Two new multi-use trail underpasses
A new multi-use path over the fox river
These changes might be nice for next year...