Bicycles Online > Road Bikes > Scott Speedster Road Bike Review
Scott Speedster Road Bike Review
I like the Scott Speedster as a light weight and very resonably priced road bike that can handle speed and competition as well as distance rides, fitness and overall road use.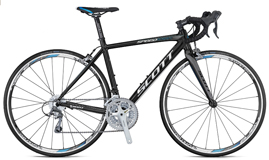 Scott Bikes have not been around as long as some of the other popular brands reviewed on this site (Fuji, Raleigh, Schwinn, etc.) but what they have accomplished in their relatively short history is impressive.
Scott road bikes are known for their light weight and aerodynamic designs and the Speedster is no exception. Scott places the Speedster in their "performance" category along with the more expensive Scott bikes and offers four different Speedster price/frame/component levels in addition to one flat bar model (see the Speedster model comparisons below for more on this).
---
Note: The 2014 Scott Speedster Contessa 50 is currently selling for $899 (new) with Free Site to Store Shipping. See Scott Speedster Road Bikes at REI
for the latest price or to order this bike online.
---
Although the Speedster is very reasonably priced (and you can buy these bikes online), these are high end bikes, with quality components. I had the opportunity to review a number of Scott bikes on a recent trip to REI and I was very impressed with their design and quality of their components.
Scott Speedster Features at a Glance: The Scott Speedster bikes have aluminmum frames (approx. 19.5 to 20.8 pounds depending on the price/frame/component level), carbon alloy forks, Shimano shifters and derailers and Contintental Ultra Sport 700x23c tires.
Scott Speedster Model Comparisons:
The Scott Speedsters have multiple price/frame/component levels (depending on the model year). The prices go down as the level goes up so the Speedster S10 is the most expensive and the Speedster S60 is the least expensive. The 4 levels have very similar frame materials and construction but differ in component quality.
See the REI and Performance links (above) for their automated comparison feature to see the specific details.
About-Bicycles Review:
I have seen some negative reviews on the Speedster components with the lower level Speedster models (the S50 and S60 (2009 model)). The components that I tested (on the mid-range newer models) worked just fine.
Scott bikes, in general, are excellent quality and very reasonably priced. If you are looking for a good racing bike at a very resonable price I would recommend the Speedster.
Customer Reviews:
There are no shortage of Scott Speedster customer reviews online but there is quite a disparity in the ratings. It appears to me that the lower end Speedsters (S50 and S60) have the most complaints.

See the REI links (above) for specifications on the other Speedster models.
---
More helpful online bike sales resources:
See Best Buy Bikes Online - for the latest sales and deals on quality brand names bikes for sale online.
See Online Bike Stores - for a complete listing of where to purchase the most popular brands for all bike types online.