Bicycles Online > Comfort and Hybrid Bikes > GT Tachyon Hybrid Bike Review
GT Tachyon Bike Review
Hybrid or Flat Bar Road Bike
The GT Tachyon is a high quality yet affordable multi purpose bike that falls in both the Hybrid and Flat Bar Road Bike categories. Although the GT Tachyon leans much more towards a sport / road bike, it has the flat (upright) handlebars and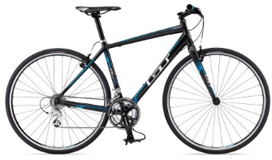 shares other features with traditional hybrid bikes and I generally reserve the road bike category to bikes with drop down handlebars and that are designed for more for speed, racing.
When reviewing and comparing the GT Tachyon to other bikes you need to keep in mind what this bike is designed for and what features it has and what it doesn't have.
Most hybrid bikes are a cross between road bikes and mountain bikes and different models lean more towards one or the other. The GT Tachyon is lighter and faster than other hybrid bikes and definitely leans more towards a road bike.
For 2012, the Tachyon comes with the 700x32c hybrid tires, the lighter carbon/aluminum forks ~ no suspension ~ and with front and rear Mini V Brakes ~ not disc brakes as you would expect on more mountain-like hybrids.
If you are looking for a high quality hybrid bike, you are in luck. GT has combined their engineering skills with mountain and road bikes and now creates some of the best hybrid bikes available.
---
Note: The 2014 GT Tachyon 3.0 is currently selling for $649 (new) at REI with Free in-store shipping. See 2014 GT Tachyon 3
for the latest price and customer reviews.
---
Popular GT Road and Hybrid Model Comparisons:
When you have shopped around for a while and have checked out some of the better hybrid and road bikes that are out there you may see a lot of similarities in the GT Road and Hybrid bikes but there are, of course, some very key differences with the these bikes.
For example, if you are looking for a hybrid bike with Disc Brakes ~ better stopping power (esp when wet) but slightly heavier ~ then you may want to look at the GT Traffic Hybrid and if you are looking for Disc Brakes and a Front Suspension then you may want to check out the GT Transeo Disc Review.
GT Tachyon Model Comparisons:
The 2012 GT Tachyon Bikes have 3 price/component levels (2.0 - 4.0). The prices go down as the level number goes up so the GT Tachyon 2.0 is the most expensive and the GT Tachyon 4.0 is the least expensive.
The biggest difference in the GT Tachyon models is with the component sets and the forks as described below:
The GT Tachyon 2.0 comes with Shimano Sora R-3400 9-speed rear derailleur, Shimano R-453 front derailleur and Carbon Blades and 6061 Aluminum fork.
The GT Tachyon 3.0 comes with Shimano R-2300 8-speed rear derailleur Shimano R-443 front derailleur and Carbon Blades and 6061 Aluminum fork.
The GT Tachyon4.0 comes with Shimano Acera 8-speed rear derailleur Shimano M0191 front derailleur and 6061 Aluminum blades and fork.
There are, of course, other differences in the GT Tachyon models but I believe that the biggest differences are those listed above. See the REI link above for more detailed specifications.
About-Bicycles Review:
The GT Tachyon is a good quality hybrid bike designed more for the road than for the trails. What you get is a fast, sturdy and fairly light bike that handles commuting, running errands and urban/suburban riding very well.
When you are looking for a good hybrid bike but really lean more towards road bikes the GT Tachyon is a good choice. If you are looking for a hybrid that leans more towards being a mountain bike then you may want to consider the GT Transeo or the GT Traffic (links above).
I have seen the GT Tachyon described as a comfort bike and as a racer. Although the upright design and geometry of the Tachyon is fairly comfortable, this is not a true comfort bike. This bike is also not a race bike. It may be fast and handle well but it was not made for racing.
Overall the Tachyon is definitely a good selection for a decent hybrid bike ~ or flat bar road bike ~ at an affordable price and I would recommend this bike.
Customer Reviews:
Although the GT Tachyon has been around for years, most of the customer reviews that we found, at the time of this review, were for prior year models. I found that almost all customer reviews, for 2010 and 2011 models, that I found online were from 4 to 5 of 5 stars.

See the Performance links (above) for specifications on the other GT Tachyon models or to order this bike onlline.
---
GT Tachyon Bike Trivia:
Tachyon — n physics
a hypothetical elementary particle capable of traveling faster than the velocity of light. Pronounced "take ya on" ~ anytime! :-)