Bicycles Online > Comfort and Hybrid Bikes > Fuji Crosstown Review
Fuji Crosstown Review
The Comfort / Commuter Hybrid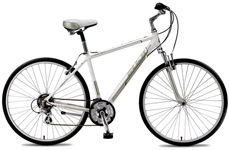 The Fuji Bike Company has been around for over 100 years. Although the company has changed ownership, distribution channels and product pricing over the years the one thing that has remained consistent is their high quality road and touring bikes and somewhat more recently their quality comfort and hybrid bikes.
Fuji has the Crosstown listed as a Commuter Hybrid bike which is accurate although I think that this bike could also fall into the Comfort Bike category just as well.
You have 4 price/component sets with the Fuji Crossown and you need to consider since there can be a bigger difference in these bikes depending on which level you are reviewing and comparing.
One thing that I did not particularly like with the Fuji Crosstown 4.0 model is that it only has 7 speeds (no front derailer, just 7 gears on the back). Keep in mind that this is just on the 4.0 model and I know that this is not an issue for a lot of people in the comfort and commuter bike market.
The Fuji Crosstown has nicely padded seat, no slip pedals, front suspension (on the 1.0 and 2.0 models), seatpost shock absorber, ergonomic handlebar grips with lever shifters (not grip shifters), 700x35c tires, high quality components and a comfortable frame design. Mens and Womens models are available.
---
Note: The Fuji Crosstown 2.0 is no longer available online (new) or difficult to find online or in retail stores. The Crosstown 2.0 was previously selling for $499 (new) at Performance Bike.
Please see our Bike Ratings page for a full listing of the bikes that are available online with prices and ratings.
---
Fuji Crosstown Model Comparisons:
As with most Fuji Bikes, the Crosstown has 4 price/component levels. The prices go down as the level number goes up so the Crosstown 1.0 is the most expensive and the Crosstown 4.0 is the least expensive.
The differences for the Crosstown are primarily with the front suspension, components, derailleurs (no front derailer on level 4.0), colors and weight. See the Performance Bike links (above) for their automated comparison feature to see the specific details.
Comfort and hybrid bikes, including the Fuji Crosstown are an excellent choice for commuting, casual and comfortable bike rides as well as an occasional longer distance (bike path or touring) ride.
Comfort Bike Comparisons:
You can find some cheaper brands of comfort/hybrid bikes (at Wal-Mart for example) but you will usually "get what you pay for" and will not be able to find the same quality as you will get with Fuji bikes for a slightly higher price.
About-Bicycles Review:
Fuji bikes, in general, are excellent quality and very reasonably priced. I rode a friends Fuji, (that he had for years, then finally donated in perfect condition) and have reviewed and tested many other Fuji Bikes and the Crosstown is no exception to their standards of quality.
Keep in mind that the level 4.0 model only has 7 speeds and that this bike has shifter levers and not grip shifters. I can easily recommend the Crosstown as one of the most comfortable commuter bikes available.
Customer Reviews:
There were three customer reviews of the 2011 Fuji Crosstown Bikes at Performance Bike at the time of this review with an average rating of

(4.5 of 5 stars). I found the prior year customer reviews below to still be relevant.
---
More helpful online bike sales resources:
See Best Buy Bikes Online - for the latest sales and deals on quality brand names bikes for sale online.
Most popular bike brands in US - WIth so many bicycle manufacturers, bicycle types and popular brand names sold in the US, that it can be difficult to find a comprehensive summary of the top 20 bike most popular bike brands.
See Online Bike Stores - for a complete listing of where to purchase the most popular brands for all bike types online.
---