Bicycles Online > Road Bikes > Focus Cayo Road Bike Review
Focus Cayo Review
All Carbon Race Bike ~ Good Price
When you are looking for an All Carbon Bike (frame and fork) with your choice of Mid-Range to High-End Shimano and SRAM components to keep you in the competition and you don't have $3k+ to spend on it you will want to check out the German engineered Focus Cayo line.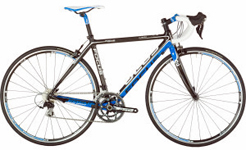 The German bicycle company, Focus, is known for their fast, sturdy and stiff bikes, with light frames which have also been tested and proven in some of the world's most demanding bike races including le Tour de France.
Some advantages that you get with Focus bikes, including the carbon frame Focus Cayo, are that you can select from a variety of component levels (including Shimano and SRAM) and that many models are available online giving you a better selection and often lower prices.
One of the difficulties that I have found with Focus bikes is that, since there are so many models and component/price levels, it can be hard to determine which models are the best and which one is the perfect match for your style, level, price range and personal preferences.
The Focus Cayo line falls into one of the most affordable carbon frame categories with your choice of high-end SRAM components or mid to high-end Shimano components.
---
Focus Cayo Model Comparisons:
The Focus Cayo has 3 component/price levels for 2012 including the Cayo 1.0 with SRAM Force components, the Cayo 2.0 with Shimano Ultegra grey components, the Cayo 3.0 with Shimano 105 components.
All Focus Cayo models have the same Focus Cayo carbon frames, Cayo T4 carbon forks and are almost exactly the same except for the Shimano and SRAM component sets.
Therefore, the biggest decision as to which Cayo model to select comes down to which component brand and level you prefer:
For SRAM Components you have:
Cayo 1.0 with SRAM Force.
For Shimano Components you have:
Cayo 2.0 with Shimano Ultegra grey and

Cayo 3.0 with Shimano 105.
About-Bicycles Review:
The stiff and sturdy frame on the Focus Cayo gives you a responsive and fast bike although you will feel the road more which may cause some fatigue on longer rides.
When I checked out Focus road bikes recently at our LBS what stood out for me was how light these bikes are and how nice the components were. The Focus Cayo also has an internally routed upper tube cable giving the bike a cleaner and sleeker look.
This is definitely a excellent and affordable racing bike. I would recommend the Focus Cayo for a sturdy yet light weight, affordable, fast and responsive racing bike.
Customer Reviews:
The Focus Cayo has been around for a few years now and there are plenty of customer and professional reviews of this bike online although most are for prior year models.

See the RealCyclist links (above) for specifications on more Focus Cayo models.
---
More helpful online bike sales resources:
See Best Buy Bikes Online - for the latest sales and deals on quality brand names bikes for sale online.
See Online Bike Stores - for a complete listing of where to purchase the most popular brands for all bike types online.
---