Bicycles Online > Comfort and Hybrid Bikes > Diamondback Wildwood Classic Comfort Review
Diamondback Wildwood Classic Review
The Affordable Comfort Bike from Diamondback
When a brand new comfort bike ~ with front and rear suspension ~ at a used bike price is what you are interested in then the 2012 Diamondback Wildwood Classic is a very good choice.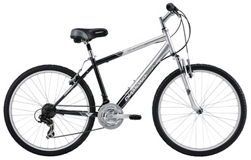 Diamondback is a name brand that has been producing popular mid-range and economy bikes for many years now. The Diamondback Wildwood Classic is designed for comfortable rides on both pavement, bike paths and trails.
The front and rear (seat) suspension (shock absorbers) give you a smoother and more comfortable ride and even allow you to handle some off the road and off the bike path trails that would be difficult on many other bikes.
The upright seating position, large nicely padded seat, downward angled top bar and easy twist grip shifters make this bike comfortable, easy to mount and dismount and easy to operate.
---
Note: The 2014 Diamondback Wildwood Classic is currently selling for $313.87 (new) indirectly from Amazon with Free Shipping options. See Diamondback Wildwood Classic
for the latest availability, customer reviews and to get this bike online at the best price.
---
The cheaper brand comfort bikes, like those found at the big box stores like Wal-Mart, do not usually have the same quality design and components as the Diamondback brand bikes that you can get online.
About-Bicycles Review:
The Diamondback Wildwood Classic is a good selection for a comfortable, all around multi-purpose comfort bike at an unbeatable price.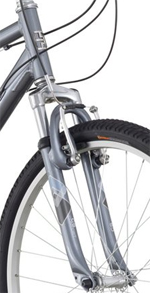 I like the overall design of the Wildwood Classic with the heavily padded Arvenir soft foam seat, the front and rear (seat) shock absorbers, upright seating position, highly adjustable handlebars and ergonomic trist grip shifters.
This bike is a little heavier than some of the other comfort and hybrid bikes mostly because of the shocks. This is not a problem for casual rides around town or even mid-range rides (up to 20 to 25 miles depending on the condition of the rider, of course).
The components on this bike are Shimano, of course, but you get the low-end components in this price range. The shifting is acceptable but is not quite as smooth or reliable as the higher priced comfort bikes.
Even with the lower-end components, you will have a hard time finding another comfort bike that is comparable to the Wildwood Classic for under $300.
Customer Reviews:
The Diamondback Wildwood Classic has been around for a long time now and there are plenty of customer reviews online. Although, I have seen some complaints and a few negative reviews, the overwhealming majority of customer reviews are positive ~
(4 of 5 stars from 11 customer reviews) at Amazon, for example.
The customer review that I believe sums up this bike the best (on Amazon) is from C. Merighe "Charlie Boy" on July 18, 2011 and includes the following:
"I've had this bike for years now. It's VERY comfortable. Last Saturday, four of us went on a bike ride along the river. We kept switching bikes, and NOTHING felt as comfortable as this one. It's a huge difference from anything else I've EVER tried. I might buy another one in the future! "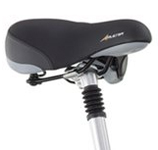 ---
There are also quite a few Diamondback Wildwood Comfort Bikes available at Amazon (prior year and current year models) at very good prices.
See the Diamondback Wildwood link above for a good selection of DB Wildwood Comfort Bikes and additional customer reviews.
---
More helpful online bike sales resources:
See Best Buy Bikes Online - for the latest sales and deals on quality brand names bikes for sale online.
Most popular bike brands in US - WIth so many bicycle manufacturers, bicycle types and popular brand names sold in the US, that it can be difficult to find a comprehensive summary of the top 20 bike most popular bike brands.
See Online Bike Stores - for a complete listing of where to purchase the most popular brands for all bike types online.
---